Cellulose acetate, the eco-friendly plastic
Cellulose acetate (also called cotton celluloid or more simply acetate, although these names are not scientifically correct) was one of the first plastics invented in the 19th century (thanks Wikipedia!).
It is a three-quarters polymer of natural origin, mainly cotton (and sometimes wood fibres), which has the enormous advantage of being biodegradable and hypoallergenic, thus causing practically no allergic reaction on contact with the skin and scalp.
This material has a huge advantage because it is thermoformable, so it can be given all possible shapes and curves from moulds and templates. Because of its composition, it can therefore be said to be part of the world of ethical fashion, especially when it is made in Europe, especially in France and Italy.
This high-end plastic material is therefore used in the manufacture of many fashion accessories, and of course, it is the one we use for the manufacture of all our hair ornament accessories, namely: hair clips, hair clips, headbands and combs. It is also used for eyeglass frames or guitar plates for example.
In its raw state, cellulose acetate comes in the form of plates, ready to be worked. They are cut out using a digital machine and die-cutters. Other elements such as sequins, feathers, fabric, jeans, etc. can be incorporated into these plates.

A noble, luxurious and ecological material
It is in the French region of Jura, more precisely in the department of Ain (the Plastic Valley, the cradle of acetate factories) that most acetate manufacturers are located. In the flea markets of the region you can find all kinds of acetate objects such as old toys, pencil pots, furniture, baths and many other unusual objects! What always stands out is the quality and robustness of the objects made from cotton celluloid.
A guarantee of French know-how
The great assets of celluloid are:
Appealing to creativity
Acetate is very versatile. It can be declined in all colors or patterns. Marie-Christine Davidian loves to place unusual materials in acetate sheets such as lace, fabric or blue jeans. In total, we have a choice of more than 600 different colours!

Create iconic designs
Marie-Christine Davidian has had the idea, for some of her models, to incorporate in the plates luxury fabrics and materials such as lace, silk, fishnet, blue jeans which gives a truly remarkable and unique aspect to all her models.
Marie-Christine Davidian's creations have become classics in the world of hair accessories. We propose a total of more than2000 references among which we will find Camellias, Thoughts, Animals, Garlands, Arabesques...
Thanks to the thermoformability of acetate, all shapes and creations are possible. Marie-Christine draws all the designs and decorations herself and our workshops work upstream to make the top of the top of the ornaments for hairdressing.
The resistance and ease of repair of objects made of acetate
Cotton celluloid is a very strong material. It is resistant to water, heat, moisture and mildew. Perfect to keep your hair clip for years! The material is only sensitive to very strong shocks that can break it. However, beware of full sun and sea water. Nevertheless, acetate has the great advantage that it can be repaired and glued very easily with acetone. In most cases, it is very easy to renovate fashion accessories when they are broken. You can always consult our repair page for more information on the subject.
Assurance that the material has been manipulated by humans
A product made with acetate in France gives the guarantee that your costume jewellery has been made in small French workshops. Each piece is unique and we can talk about custom-made. Be careful anyway to check that the handmade label (or handmade in France) is present and marked on your fashion item, because there are different manufacturing methods. We will come back to this subject in more detail, but in any case, French acetate products come from a healthy and ecological industry that employs French workers. And this has been the case for many generations.

The delicate choice of materials
For each model, MC Davidian uses different inspirations such as travel, reading, the culture of different countries, floral and underwater nature, old and historical fashion . She designs the models, has them cut out, decides on the bending, the material that will suit the best, the colours and to finish the decoration with pearls and Swarovski ® stones. Everything is designed in the smallest detail. It is a unique creation for each model in the different themes.
Marie-Christine Davidian decides to create each season thanks to her inspiration, an experience that has grown during all her years of creation and happiness.
After 40 years of creation, we offer all the great themes of fashion. We can mention the different camellias, orchids, acanthus leaves, feathers. But also retro or ultra-modern models, all kinds of bows, timeless classics. So you can find classic or more sophisticated in our collection.
After all these years, our creations remain current and timeless.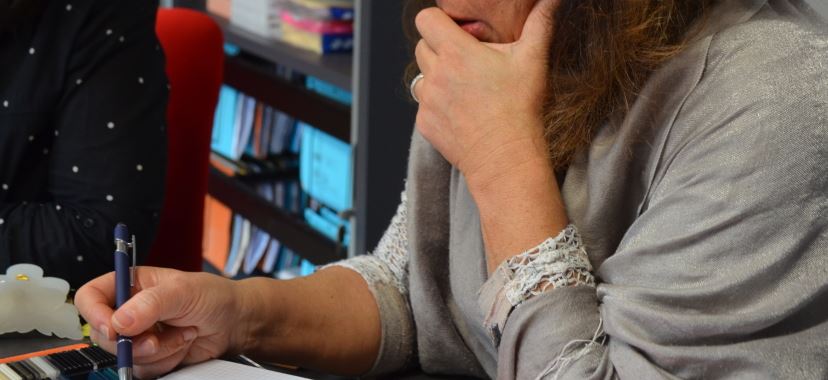 A little cultivation around the cotton acetate
Acetate workers use ancestral manufacturing techniques. Many complex steps are required to transform an acetate sheet into a fashion accessory!
Manufacturing techniques
However, we would like to point out that not all cellulose acetate products are hand-made.
There are two main families of cellulose acetate products.
The hand-made technique where the material is cut, glued, bent by hand.
· The injected technique which consists in injecting acetate beads into moulds.
Note that Swarovski ® stones are always hand-set.
For the sake of transparency, on our website, the handmade label is introduced in the name of the product. This way, you will be able to know the manufacturing technique used for the product that is close to your heart!
Around recycling and the ecological aspect
Our cellulose acetate is produced from GMO-free organic cotton, which is much less harmful to the environment. These traditional crops consume much less water than intensive cotton crops.
Acetate has great recycling properties. Indeed, we manage to make new acetate sheets from wood waste or cotton textile waste. Some of our employees are now able to create new acetate sheets from the offcuts produced when cutting the sheets. In other words, 100% of the material is used and nothing is lost! Especially useful for recovering the material lost during the manufacture of spectacle frames where most of the cellulose is cut. But this technology is kept very secret for the moment.